Multi Head Split System Air Conditioners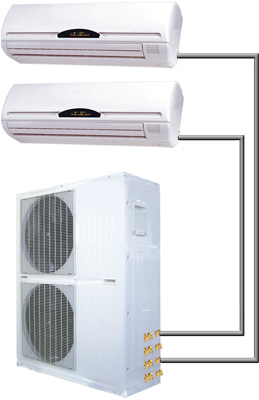 From 2.00hp (5.0kw) upwards
A cost effective solution for air conditioning in multiple rooms. Multi Head Split Systems are perfectly suited to small or medium-sized areas across multiple rooms and together with advanced inverter technology; they provide a tailored air conditioning installation with fewer base units required outside.
Features:
This solution features 2 to 6 indoor locations connected to one outdoor unit. A wide selection of indoor units including wall mounted, in ceiling cassettes or ducted units are available all from the leading manufacturers.
Benefits:
If you have a new property, residence, offices or commercial space which is still in the construction phase, or if you are refurbishing, this product range allows you to choose the most reliable and energy efficient solutions while matching your outdoor space needs and indoor decoration criteria.
Commercial single split-systems
2.5 kW to 14kw (1.0 – 6.0hp)
A simple and user friendly solution for air conditioning multiple units on construction projects.
Features:
This solution features a wide variety of head units including wall mounted, in ceiling cassette (both mini and standard), under ceiling and floor console units, stainless steel kitchen or ducted units. All available from the leading manufacturers.
Benefits:
A fast installation solution that is scalable. This is a simple and effective solution that allows staged installation, commissioning and operation rollout.
VRF Commercial Air Conditioning Units (Variable Refrigerant Volume)
From 11.5 kW upwards
Top class energy ratings with EER: 4.04 I COP 456
Gas pipe lengths up to 1000 meters
Up to 64 connectable indoor units
Applications:
Offices, Factories, Residential, Commercial, Industrial & Mixed Projects
Products available:
Panasonic FSV
Panasonic FS Multi
Mitsubishi Electric city multi
Fujitsu VRF Airstage
Features:
Variable refrigerant flow (VRF) systems use a single outdoor unit to independently control multiple indoor units. By communicating with the indoor units, the outdoor unit controls the flow of refrigerant to each indoor unit to match their cooling or heating loads.
Benefits:
Independent operation of each of the indoor units, with inverter control provides for optimum energy-saving operation for larger scale projects. Air conditioning in multiple rooms utilising a single outdoor unit also means much less construction and a big improvement in the appearance of buildings. A huge range of indoor models is available to satisfy the needs of different kinds of buildings. Taking advantage of our extensive experience with installations on major projects.
VFR product selections for indoor units and control systems is extensive and we recommend making an appointment with a trade qualified a/c technician for advice and support on product selection.